Not Your Grandma's Griddle Cake Recipe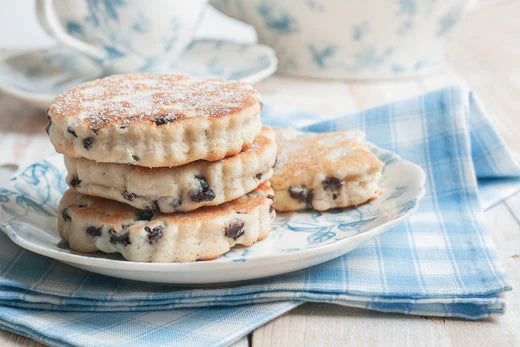 Preparation
Some of us have tried and true recipes handed down from our grandparents. We have trouble eating these dishes anywhere else except home because no one can compete with nostalgia. 
But what about all those crap recipes? You know, the bland and poorly seasoned dishes that were a part of the regular meal rotation? Some of us had golden-brown griddle cakes or the best pancakes you'll ever eat, but for everyone else, we'll present you with this: the opposite of the mush you've been fed for years.
Let's get started. 
Our Griddle Cakes Are a Fresh Take on a Southern Classic
Griddle cakes are named as such due to the pan or griddle they are traditionally cooked in. If you're from the South, you may have traditionally seen these guys made with cornmeal a time or two. 
You may also know griddle cakes by their other names, like pancakes or hotcakes. This is because they all have the same backbone. They use starch, leavening, and wet ingredients for activation (to get that perfect little puff). 
Our recipe adds a kick of creativity and amps up the flavor to brighten up your breakfast. 
What's Different About These Griddle Cakes?
Obviously, they're delicious, but we add a little extra to make them stand out. 
Here's what we consider special about our griddle cakes:
We added Bailey's Irish Cream for some extra oomph
They're the perfect balance of fluffy and crispy
We used pantry staples instead of a mix
How To Make Badass Griddle Cakes Step-by-Step
The step-by-step recipe and instructions that follow will put your home kitchen on the map for making the best breakfast in the neighborhood. 
Warning: Making these griddle cakes for family and friends may lead to more cooking time for you in the future and possibly more unexpected guests around breakfast. 
Step One: Make Your Homemade Batter
One of the best parts of this recipe is that we created an easy, straightforward recipe that is not out of a box. This means that your ingredients will form fluffy and flavorful griddle cakes. 
Pro tip: allow your batter to rest on the countertop before adding to the pan. This will allow the gluten and leavening agents time to mingle and mature and will result in a little more puff, since the leavener has time to activate. 
Here's how to make your batter:
Mix dry ingredients: 2 measuring cups all-purpose flour, 4 tsp baking powder, ¼ cup brown sugar, teaspoon salt in one large bowl.
Mix wet ingredients: 1 large egg, 2 tsp vanilla extract, 1 tbsp coconut oil, 4 tbsp Bailey's Irish Cream, 1 tsp lemon juice, ½ cup milk (whole milk or buttermilk) in a separate medium bowl.
Pour the flour mixture and wet ingredients into one bowl and stir.
Step Two: Preheat Your Stainless Steel Skillet
You'll want to use a high-quality, stainless steel frying pan for this pancake recipe. No cast-iron skillet here. Why? 
You need a pan that can work as a skillet but heat up quickly and evenly like a traditional pan. Only something of quality with hybrid properties can accomplish both of these tasks (we aren't afraid to admit that we're partial to our 12" HexClad Griddle Pan). 
Heat your pan to medium-high heat, then add a little bit of fat, like melted butter (use unsalted butter so that you get the purest flavor).
Pour ⅓ cup of batter for each pancake.
Flip when the pancake starts to bubble and sizzle.
Step Three: Plating and Presentation
It's all about the finish. You can make the best-tasting meal in the world, but we eat with our eyes first, so you better not skimp on the details. 
Here are a few of our favorite ways to dress up plain griddle cakes:
Serve with strawberries, bananas, blueberries, applesauce, or your favorite fruit topping.
Add whipped cream (preferably fresh whipped cream, because the little details matter) or a subtle kiss of powdered sugar.
Top with authentic maple syrup. None of the artificial bulls***. We didn't just spend all this time making the most delicious griddle cakes to top them with crap. Save the fake sh** for your gluten-free toaster waffles.
What Tools Do You Need To Make Badass Griddle Cakes?
What you cook your griddle cakes with is just as important as what goes in the recipe. It might sound dramatic, but if you're using low-quality pans and cheap utensils, expect to have problems. 
A High-Quality Stainless Steel Skillet
We recommend our 12" Hybrid Griddle Pan or our 12" HexClad Hybrid Pan. 
You'll be flipping perfect griddle cakes all morning like it's your job. With our lightweight pans, you'll actually enjoy it.
A Metal Spatula
You'll want a metal spatula versus a plastic spatula because a metal spatula gives you more control and less mess when flipping griddle cakes. 
Another reason you need a strong and durable pan is that most pans can't handle the strength behind a metal spatula. Thankfully, we made sure all of our pans stood up to this kind of cooking. 
Sturdy Mixing Bowls
You have to add wet ingredients after you mix all dry ingredients together, so you'll need a good set of mixing bowls to help the transfer process. They'll need a silicone bottom so they don't move when you're mixing. 
We recommend investing in a set of our nesting mixing bowls. These bowls even double as storage. They feature handy vacuum seal lids that will keep your batter fresh in the fridge for up to three days after mixing. 
You won't forget when you left them in there either, as we added a date dial to ensure food quality and safety. 
A Neat and Tidy Kitchen Workspace
If you've ever watched Gordon Ramsay on TV, you know that he does NOT mess around with his workstation. Literally and figuratively, your workstation is a representation of your meal and mindset, so they better be organized and up to snuff. 
Even in a small kitchen, you can measure out ingredients first and put items away as you go. Take toppings out of the fridge at the end or whip up cream for your pancakes beforehand to have them ready at a moment's notice. 
Bon Appetit, Ladies and Gentlemen
We know your mouths are watering. No matter your skill level in the kitchen, you'll have this technique down fast — if you have the right cookware to help you along the way. 
Between our know-how tips and tricks, recipe ideas, and our badass quality cookware, you can't help but kill it on day one. 
Sources:
Readers Share the Joys, Memories of Cooking with Grandma | Providence Journal
The Long, Surprising History of Pancakes | National Geographic