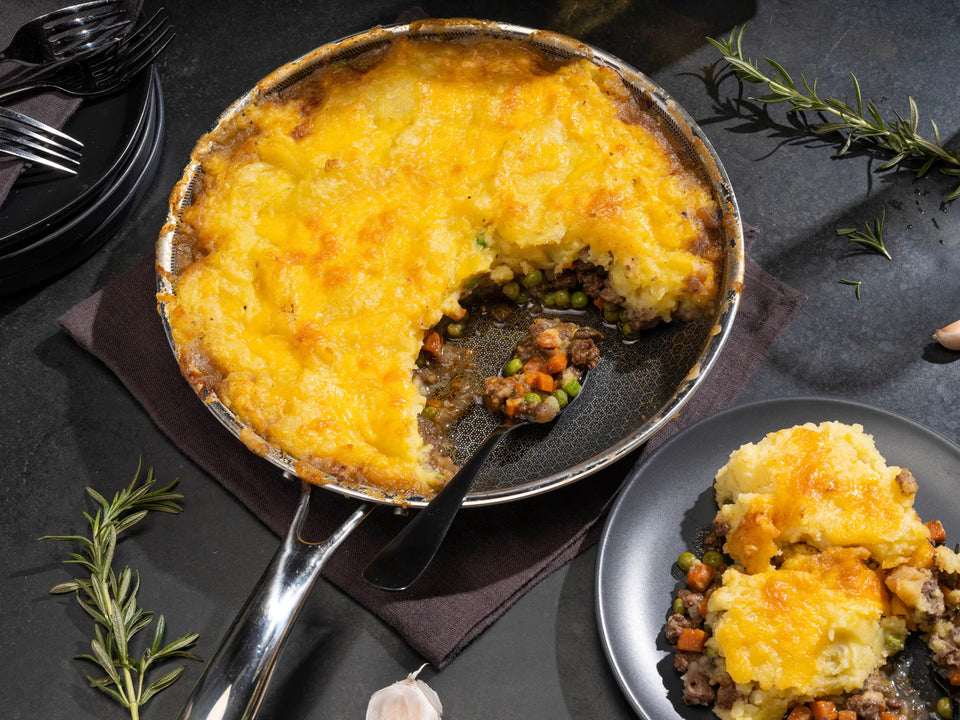 Preparation
Preheat the oven 200°C.
Heat a 25cm HexClad Hybrid Pan over a medium heat. Cook the lamb mince for 3-5 minutes until golden and season with salt and pepper to taste. Remove to a bowl.
Add the onion, carrot and rosemary. Season with salt. Cook, while stirring, for 5-8 minutes until the vegetables has softened.
Return the browned mince to the pan. Cook for 2 minutes.
Stir in the tomato pastee, cook for 30 seconds then scatter in the flour and cook for another minute.
Add the wine, let it bubble away for a minute to reduce by half.
Add the stock and Worcestershire sauce. Simmer for around 25 minutes, until you have a thick rich sauce. Add the peas for the last few minutes of simmering.
Meanwhile, cook the potatoes in a large saucepan of boiling salted water for 12-15 minutes, until cooked and tender.
Drain allowing the potatoes to steam dry for a few minutes before returning the potatoes to the pan. 
Add the butter, mash until smooth. Season to taste.
Spoon the mashed potato, over the lamb in the skillet, spreading it evenly. Run a fork over the surface to fluff it up. Scatter over the grated cheese.
Bake in a preheated oven for around 25 minus until golden and bubbly.