Chef Daniele Uditi's Tagliata di Carne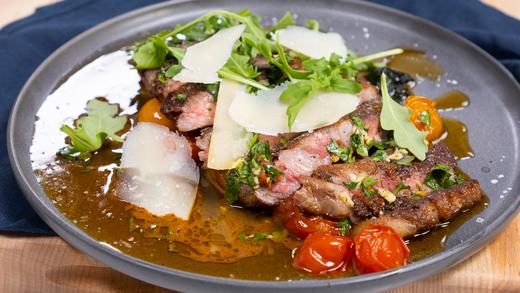 Preparation
Tagliata di Carne 
By Chef Daniele Uditi
Visit Daniele's Instagram for more recipe ideas: https://www.instagram.com/danieleuditi/
Instructions:
1. Start prepping the gremolata. In a medium mixing bowl bowl add roughly chopped parsley, chopped garlic, lemon zest, extra virgin olive oil, salt, pepper, and calabrian Chile paste. Mix together with a spoon and set aside
2. Slice cherry tomatoes in half. Place into a bowl and set aside .
3. Season steak with salt and pepper on both sides.
4. Add olive oil to a 25 cm HexClad Skillet and bring to medium-high heat.
5. For a 3.81 cm steak, cook for 3-4 minutes, flip, then reduce the heat on medium. Next, add garlic, parsley, and butter to the pan. Using a spoon, baste butter mixture over steak and cook for 1-2 more minutes.
7. Let steak rest for approximately four minutes before slicing
8. While the steak is resting, add cherry tomatoes back to the pan (utilizing the existing fat). Cook tomatoes in fat for 3-4 minutes. 
9. To plate, place a layer of tomatoes down followed by sliced steak, a pinch of salt, a few spoonfuls of the gremolata, fresh arugula, and fresh shaved Parmigiano-Reggiano.