Why Gordon Ramsay Uses HexClad Pans & Cookware Sets
by HexClad Cookware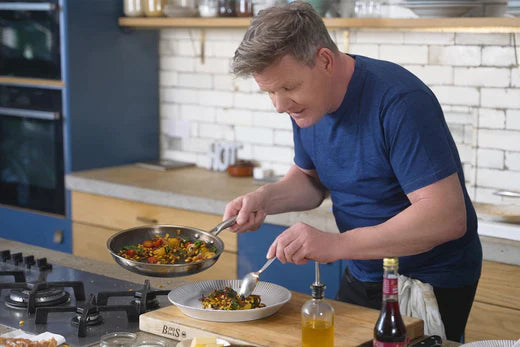 Chef Gordon Ramsay really does it all. He's a celebrity chef with multiple Michelin stars, the host of Masterchef, a teacher for MasterClass, an owner of numerous restaurants worldwide, and the author of several renowned cookbooks.
So how can you ensure your own success in the kitchen just like Gordon does? Practice, of course. Plus, you can start using top-of-the-line pans and cookware in your kitchen.
Discover why HexClad is a must-have for Gordon in any kitchen. 
Cooking, From the Beginning
Since the stone age, we have used pots and pans to cook food, but our way of cooking has evolved since then. We have made great strides with pan materials like copper, cast iron, and steel. 
Around the 1950s, however, we stopped evolving. We found non-stick cookware and despite its flaws, stayed with it. Why?! It was clear that things could be better.
That's why HexClad stepped up the cooking game with the revolution in technology that cookware needed. It performs like nothing you've used before. Plus, it's versatile, safe, and cooks like a dream. No wonder Gordon Ramsay can't get enough.
Why Use HexClad? 
HexClad is the latest in cookware innovation. All our pans use our patented hybrid design tri-ply, clad-style technology.
Tri-ply clad-style cookware is built using an advanced three-layer system. The two outer layers are made from magnetic stainless steel. This allows the cookware to be used on any range — from old-school gas and electric to newer induction cooktops. 
Sandwiched between the two layers of steel is an aluminum core layer. This layer creates an even heating surface for a better cooking experience.
he pattern of peaks and valleys present on the surface of the pan is another superior feature of this cookware, specially crafted through a laser etching process. 
The peaks are made from stainless steel to give you that perfect, golden sizzling sear. They also keep your pan strong and prevent any chips and flaking.The valleys are non-stick surfaces to make clean-up quick and easy.
Non Reactive
 Since this cookware is made from stainless steel, it is a non reactive surface. This means that cooking even the most acidic of foods, like tomatoes, won't be an issue for your pan. 
Pans with reactive surfaces will reactto these types of ingredients when you cook them, imparting an unpleasant, metallic flavor. Hardly the result you want from your hard work in the kitchen.
HexClad's nonreactive pans can easily handle these stronger ingredients and won't add unwanted flavors to your meal. 
There's More To Love About HexClad
Many cookware options aren't safe for the dishwasher, as the dishwasher's hot, moist environment can damage several kinds of pans. Cast iron will rust, copper pans will tarnish and lose their color, and pans with coatings often chip (and those flakes eventually get into your food). 
Your only other option seems to be washing by hand, spending hours cleaning after all the time spent cooking — and it's a huge waste of water. 
Here at HexClad, we created all of our pots and pans to be dishwasher safe, keeping us one more step ahead of the competition. 
Oven Safe
Hexclad pots and pans are also oven safe.The best part? All those recipes that involve searing your food before moving it to the oven are safe in these pans.
You can turn off the heat on the range and put our pans directly into the oven without having to transfer your food or worry about your cookware being ruined by the heat. 
Versatility
Chef Gordon Ramsay loves cuisine from all over the world. He's constantly trying out and creating new recipes, just like you! To maintain this level of creativity in cooking, you and Gordon require kitchen items that can adjust to your needs.
That's why we've thought of everything, from the Damascus steel knives for prepping your food to our signature mixing bowls for creating the best sauces. Even our pots and pans let you simmer, saute, and sear food to perfection! 
Looking to make your favorite fried rice or udon noodles this weekend? No worries: We also made a hybrid wok! 
This is why Gordon is all-in with our products. We created something for every cooking technique, down to the prep. 
See for Yourself
Now that you know the technology behind our cookware, you'll need to see it for yourself. Try HexClad and see why Gordan Ramsay loves it — and you'll love it too. 
If you're a home cook worth your salt, you deserve the latest innovation in cookware. Try our revolutionary cookware for your next big meal, or start with a few of your favorite cookware items to stock your cabinets slowly. 
Use a HexClad pan once with your toughest recipe, and we know you'll be hooked. 
Sources:
Gordon Ramsay Recipes | GordonRamsay
Cookware and bakeware | New World Encyclopedia
Can You Put Pots & Pans in the Dishwasher? | Cleanipedia