How To Cut a Dragon Fruit & 5 Serving Ideas
by HexClad Cookware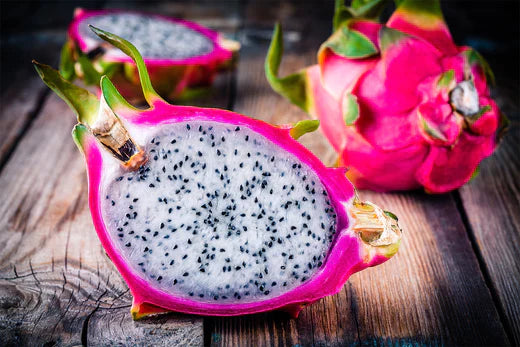 This bright-colored and scaly fruit may resemble a creature of mythology and folklore, but the dragon fruit is easy to incorporate into your everyday meals.
Most of us didn't grow up eating dragon fruit the way we did apples and oranges, but here at HexClad, we think it's time to change that reality. 
Dragon fruit is flavorful, nutrient-rich, visually and textually unique, and just plain fun! 
However, the unfamiliar shape and scaly exterior can make this fruit a little intimidating at first. If you're not sure how to cut dragon fruit or how to eat dragon fruit, don't worry. We're covering everything you need to know about this hidden gem of a fruit below. 
How To Cut a Dragon Fruit in 3 Easy Steps
Native to southern Mexico and Central America, dragon fruit grows on the Hylocereus cactus, whose flowers only open at night.
This tropical fruit is also known as a pitaya, pitahaya, and strawberry pear. It's now grown throughout the world. Popular for their awe-inspiring appearance, nutrient-rich interior, and appealing tropical flavor, dragon fruit tastes similar to a kiwi and pear hybrid with somewhat creamy flesh.
Most dragon fruits have bright red skin with green scales that could easily pass for dragon skin. The interior of a dragon fruit is white or red flesh, depending on whether you're using a white dragon fruit or the somewhat rarer red dragon fruit. 
It's also full of tiny black seeds that are rich in healthy antioxidants and minerals such as vitamin C, iron, magnesium, and fiber.
How do you cut through the dragon fruit skin to reach these treasures within? With the right knife and know-how, slicing into this unique and exotic fruit is a cinch. 
Read on for our step-by-step guide.
Step One: Halve the Dragon Fruit With a Santoku Knife
A good santoku knife is a worthy companion for cutting through the dragon fruit. A santoku knife is a reliable go-to, capable of conquering a wide range of kitchen tasks with its long blade. 
A santoku knife can do it all when it comes to dragon fruit. Simply place your fruit on the cutting board and halve the fruit lengthwise. HexClad's Damascus Steel Santoku Knife can easily cut through the dragon fruit's outer skin and the softer interior with ease. 
Beautifully crafted and forged with 67 layers of high-quality Japanese Damascus steel, our highly durable and versatile santoku knife makes it easy to slice into fresh dragon fruit.
Step Two: Hand-Peel the Skin
Once you've cut your dragon fruit into two even halves, peel the skin from the fruit flesh. The easiest way to start peeling is to find the woody stem at the top of the fruit. The skin should open around the stem, allowing you to grab the pieces at the opening and peel them away quickly, similarly to removing a banana peel.
You can also separate the edible flesh from the skin with a spoon. Simply slide a spoon between the pink skin and white flesh and gently lift the spoon. Either technique will get you to the soft and sweet seed-filled inner fruit for a burst of flavor and pleasant crunch.
Step Three: Slice or Cube the Dragon Fruit 
Once you've discarded the skin, you can slice or cube the fruit with the same santoku knife. A santoku knife is a fantastic tool for cutting into the dragon fruit's soft flesh, thanks to its scalloped blade. The dimples running along the straight edge of this Japanese knife help keep food from sticking as you slice or dice, while the low-pointed tip allows for quick, clean cuts. 
The HexClad santoku knife can make quick work of softer ingredients with the potential to cling, such as the dragon fruit flesh. After placing the two halves of the fruit flat-side down on a cutting board, you can use the santoku knife to precisely slice, evenly cube, quarter, or roughly chop the flesh of this fun fruit.
5 Ways To Serve Dragon Fruit
The dragon fruit's semi-creamy and slightly crunchy texture make it delightful to eat on its own or incorporate into a smoothie or fruit salad. This fruit makes it easy to get creative.
For a little inspiration to get you started, here are five of our favorite ways to serve dragon fruit. Just make sure your dragon fruit is ripe first to ensure you get the most flavor out of it in whichever form you choose.
Ripe dragon fruit will have bright pink skin that should give slightly when squeezed, without feeling mushy. If the skin is still green and hard when you press it, let it ripen on the counter for a few more days. 
While a few blemishes are nothing to worry about, skip a dragon fruit that feels mushy or is covered in dark spots.
Freeze It and Blend It in a Smoothie
Tossing a few chunks of frozen dragon fruit into your morning smoothie is a great way to add nutrients. The tropical flavor of dragon fruit pairs incredibly well with mango, kiwi, papaya, coconut, dates, and berries. 
We love using banana or avocado for extra creaminess. Add in a handful of nuts or protein powder for a protein-rich and tropically-sweet breakfast or snack on the go.
Make a Dragon Fruit-Topped Acai Bowl
An acai bowl can add a splash of color to your morning routine, but the addition of dragon fruit can make it textually exciting.
Purple acai berries make the perfect base for a quick and nutritious meal. Slightly tart and earthy, these berries are balanced out nicely by the mild sweetness of dragon fruit. 
Blend frozen acai berries with milk or yogurt and some of your favorite fruits to create the perfect bowl. Blueberries, strawberries, and bananas all work well. 
Once thick and smooth, pour the vibrant purple puree into a bowl, and add your toppings.
If you don't have acai berries on hand, blend up frozen pink-fleshed dragon fruit for a similarly vibrant smoothie bowl brimming with health benefits. 
Top your dish with granola, coconut flakes, blueberries, almonds, and chia seeds. Don't be afraid to experiment and have fun with it.
Make Dragon Fruit and Mango Salsa
Enhance the flavor profile of your favorite tacos, heap atop seafood, or wow your guests the next time you're serving an appetizer of salsa and chips with this dragon fruit and mango salsa.
Our bright and slightly sweet salsa tastes great and can help cut the spiciness of a dish with a too-strong kick.
All you need is a non-reactive mixing bowl like the HexClad stainless steel set to combine chopped dragon fruit, mango, bell pepper, red onion, cilantro, lime juice, salt, and pepper. Chill in the fridge for two hours before serving. 
Adding a dash of color and texture to your meal has never been easier.
Add Dragon Fruit to Your Overnight Oats
Turn your run-of-the-mill oats into a striking display that looks like it came straight out of a fairytale. 
We suggest using a pink or red variety of dragon fruit for the vibrant pink hue it will add to your oats, but a white or yellow dragon fruit will taste just as delicious.
To create, prepare your overnight oats as you normally would before adding in your dragon fruit and refrigerating them overnight.
Mash your dragon fruit with a fork for a chunky texture to mix in with the oats, or blend cubed dragon fruit with yogurt or coconut milk and create alternating layers of oats and the creamy dragon fruit mix. 
The pink flesh will add a sweet and striking addition to your mason jar of goodness no matter how you prep it. Top with a few thin slices of dragon fruit, coconut flakes, or whatever your heart desires, and you'll have a ready-to-go nutrient-packed breakfast that looks and tastes like pure magic.
Make Dragon Fruit Kabobs
This blend of refreshing flavors and textures makes for an amazing post-dinner treat, midday snack, or an easy appetizer for your next backyard bbq. Fruit kebabs are also a great way to liven up a healthy kid-friendly snack. 
Creating these kabobs can serve as a fun activity for the whole family. 
Dragon fruit will look great next to any fresh fruit. We suggest reaching for every color of the rainbow by pairing it with watermelon, cantaloupe, pineapple, kiwi, and blueberries. 
Use strawberries, blood oranges, and gooseberries for an even more elegant display. Yum.
Use a sharp knife to cube your fruits and arrange them in alternating colors on your skewers. You can squeeze a hint of lime juice on the fruits to keep the colors bright and vibrant. Serve with a yogurt dip. The mix of color, flavor, and texture is a guaranteed crowd pleaser.
We've Got All the Knives You Need 
Breaking into a dragon fruit may look as intimidating as trying to slay a real dragon, but with HexClad knives, slicing and dicing this delightful fruit couldn't be easier. 
We forge our knives from 67 layers of high-quality Japanese Damascus steel, providing you with a hard blade and sharp edge to cut through even the thickest skins. Our knives feature a full-tang construction for superior balance and control. 
For cutting dragon fruit and beyond, HexClad has your back.
Sources: 
Dragon Fruit: Nutrition Info and 3 Health Benefits | Cleveland Clinic
Damascus steel | Description, Production, & Facts | Britannica
Acai Berries: Health Benefits, Nutrition, Diet, and Risks | Medical News Today