7 Dinner Party Menu Ideas: Easy Meals for Large Groups
by HexClad Cookware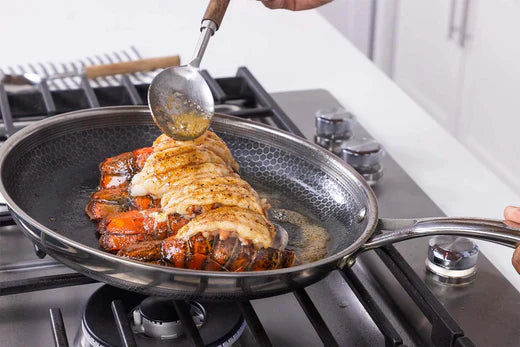 It's that time of year again, folks. Step outside, and you can bask in those long, warm daylight hours. That's right: Summer is upon us.
If this time of year makes you want to throw a backyard bash, we're right there with you. 
It's the perfect time of year to invite friends and family over for a dinner party. The kids can run around in the back while you pop open the red wine or crack open some cold ones. At the end of the night, you can all enjoy s'mores under the late-night setting sun. The only question is: What are we having for the main course?
While getting out the grill for some BBQ is a classic, you may be interested in trying something different this year. But what?
If you're racking your brain for what to make that can feed a crowd (with plenty of time to join in on the fun, too), don't worry. HexClad has you covered with these seven delicious and group-friendly meals to serve at your next dinner party.
Rosemary Mozzarella Peach Chicken 
Nothing says summer quite like a ripe, juicy peach. With this sweet and tangy Rosemary Mozzarella Peach Chicken dish from HexClad, you're sure to satisfy all of your friends' warm-weather cravings.
Here's what you'll need for this instant fan favorite:
1 1/2 pounds boneless chicken breasts or thighs
5 slices thick-cut bacon, chopped
1.5 tablespoons extra virgin olive oil
6-8 ounces fresh mozzarella, torn
2 tablespoons fresh chopped rosemary
3 peaches, sliced
Zest of 1 lemon
1/4 cup all-purpose flour
3/4 cup dry white wine
1 cup low-sodium chicken broth fresh basil
Kosher salt and pepper
Instructions
To get started, preheat your oven to 425 degrees F. Then, thoroughly rub the chicken with olive oil, rosemary, lemon zest, and salt and pepper. 
Next, evenly sprinkle the chicken with flour and toss to coat. If needed, add more flour, and toss again. 
Once your chicken is evenly coated, whip out your 12'' HexClad Pan and heat over medium-high heat. Once warm, add the bacon, and cook until crisp. Then, remove the bacon from the pan, and set it aside on paper towels to drain the excess grease.
Add the chicken to the pan and sear on both sides golden brown, which should take about six to eight minutes per side. Once you reach that golden sear, reduce the heat to medium-low and add the wine and chicken broth. Simmer the chicken for 12 to 16 minutes until fully cooked through.
When your chicken is cooked, return the bacon to the skillet. Arrange the peaches and mozzarella evenly around the chicken, then transfer the skillet to the oven. Roast for five to eight minutes or until the peaches are charred and the cheese has melted. Then it is ready to serve!
Pepperoni Pan Pizza
We're never too old to get excited about a pizza party. This Pepperoni Pan Pizza by Chef Daniele Uditi puts an elegant spin on a classic comfort food. It'll be a hit with the kid's table and adults' table alike. Feel free to make it your own, like adding jalapeno and chorizo for a Mexican twist or feta and pesto for a vegetarian-friendly option. 
For each pizza, you'll need:
1 pizza dough (250 grams) 
3 to 4 tablespoons crushed San Marzano Tomatoes 
60 grams fresh mozzarella 
1/4 cup parmesan 
1/2 cup pepperoni 
4 to 5 leaves fresh basil 
Instructions
Once you've got your ingredients ready, preheat your oven to 500 degrees F, and place your San Marzano tomatoes in a bowl. Add salt, and crush by hand until they have the consistency of crushed sauce.
Next, coat the inside of a cold 10" HexClad Hybrid Pan with oil, and place your pizza dough in the pan. To form the crust, use your hands to push all the air from the center of the dough out to the sides.
Once your dough is shaped, add the tomato sauce, and bake for seven minutes at 500 F.
After those seven minutes in heaven are up, remove the pan. Now, it's time to add your mozzarella, parm, and your crown jewel: le pepperoni. 
Place your pan back in the oven for three to four more minutes or until the crust is a golden brown, and voila! Carefully remove from the pan, add basil, and slice. Set out some red pepper and extra parmesan to sprinkle on top, and you are golden!
While this recipe yields a single 10" inch pizza, scale-up for a dinner party by multiplying the ingredients by the number of pizzas you want to make. Typically, one 10-inch 'za can feed two to three guests. If you're hosting 12 guests, we'd recommend making four to six pizzas — just don't forget to count yourself!
Coconut Curry Chicken and Sweet Potato
This East Asian meal is perfect for friends who like a little kick. Spicy with a hint of sweet, your guests will be dreaming of this Coconut Curry Chicken and Sweet Potato dish long after the party ends.
Here's what goes into this warm and rich recipe:
1 pound boneless skinless chicken breasts, cut into 1 to 1.5'' pieces
3 tablespoons natural creamy peanut butter
1 1/2 cups diced sweet potato, par-cooked
1/2 cup light canned coconut milk
2.5 teaspoons grated fresh ginger
1 tablespoon coconut oil
1 tablespoon red curry paste
1 teaspoon maple syrup
1 teaspoon fish sauce
Juice of 1/2 of a lime
Kosher salt and fresh ground black pepper
Chopped unsalted peanuts, green onions, and cilantro 
Instructions
First, whisk together the coconut milk, peanut butter, red curry paste, fish sauce, maple syrup, and lime juice together in a bowl. Once combined, set aside.
Then, heat 1 1/2 teaspoons of coconut oil in a 12'' HexClad Pan over medium-high heat. Add the cut chicken to the pan, and spread them into a single layer. Season the chicken with salt and pepper, then let it cook for about three to four minutes before stirring. 
Continue to cook until the chicken is cooked through (or reaches an internal temperature of 165 F), then remove it from the pan onto a plate. 
Add the remaining coconut oil to the skillet along with the diced par-cooked sweet potato. Season lightly with salt and pepper, then sauté for about three to four minutes until tender.
Once the sweet potatoes are tender, add the chicken back into the pan along with the grated ginger. Stir to combine, then pour in the sauce.
Stir and coat everything in the sauce. Remove from the heat and top with chopped peanut, green onion, and cilantro. One bite and your friends won't know what hit them!
Sockeye Salmon With Summer Succotash 
This light but filling Sockeye Salmon With Summer Succotash by Chef Gary Nguyen is perfect for a summer dinner party. This salmon and veggie entree gets bonus points for being gluten-free and pescatarian friendly, making it a great main dish if your guests have dietary restrictions. 
The ingredients you'll need are:
2 filets Sockeye Salmon
1 tsp cumin
1 tsp coriander
1 tsp black pepper
1 tsp salt
1 tsp garlic powder
1 tsp onion powder
1 tablespoon butter
1 can cannellini beans (strained)
1 heirloom tomato, diced
1/4 onion, chopped
1 garlic clove, minced
1 zucchini, diced
1 can tomato sauce
1/2 yellow bell pepper, diced
1/2 red bell pepper, diced
1/2 cup chopped green onion
Chopped green onion and shaved fennel salad
Instructions
This recipe can easily feed two people, so we recommend scaling up based on how many guests you'll be feeding. 
To get started, you'll season the salmon fillets with cumin, coriander, black pepper, salt, garlic powder, and onion powder. You can do this step ahead of time, and let it sit in the fridge for at least 30 minutes. 
Next, you'll work on the succotash, which is a corn-based vegetable medley.
Heat up a 12'' Hexclad pan on medium heat, then add olive oil. Toss in your chopped onion and diced bell pepper and season with salt. Cook these for two to three minutes before adding your diced zucchini and butter. 
Then, sautee these veggies for another two to three minutes before adding your tomato sauce and mixing it all together. Once mixed, add the diced tomato, cannellini beans, and green onion. 
Now, it's time to cook your salmon fillets. Add two tablespoons of olive oil to a 12" Hexclad pan on medium-high heat. Once hot, place your salmon fillets in the pan two at a time. 
Sear the salmon for four to five minutes, and then add butter, smashed garlic, and a sprig of rosemary. Use a spoon to baste the salmon fillets with the butter. Once the skin on the bottom has turned golden brown, flip the fillets and cook for another two to three minutes, or until they reach the desired doneness. 
Serve each salmon fillet on its own plate and top with summer succotash. The final touch of this satisfying dish is the garnish: fennel salad, dill, and microgreens. Your guests won't be able to get enough!
Garlic Herb Chicken and Asparagus
It's all in the seasoning, and this one doesn't disappoint. Simple and classy, this Garlic Herb Chicken and Asparagus will leave a lasting impression on your guests.
You'll need:
4 boneless chicken thighs 
1 bunch asparagus, ends trimmed
3 tablespoons butter, divided
1 teaspoon dried basil 
1 teaspoon dried oregano
1 teaspoon dried thyme
1 teaspoon onion powder
2 tablespoons minced garlic
Salt and pepper, to taste
Fresh herbs for garnish 
Instructions
First, season the chicken with salt and pepper on both sides. Melt two tablespoons of butter in a 12'' HexClad Pan over medium heat. Stir in garlic and herbs and cook another minute or so until the garlic is fragrant.
Reduce heat to medium-low and add chicken thighs to the pan. Cook for six to eight minutes, then flip and cook for another six to eight minutes. You want the chicken to be nearly cooked through, but not completely.
Once nearly cooked through, slide the chicken over the left side of the pan and add the remaining tablespoon of butter to the empty portion of the pan. 
Once the butter is melted, add the asparagus into the same pan (and rejoice that there isn't a second pan that will need cleaning). Season the asparagus with salt and pepper as desired and cook — rotating throughout — for five to seven minutes. 
When the asparagus is tender and the chicken is completely cooked through, you can remove it from the heat. Garnish with freshly cracked black pepper, and get ready to serve seconds… and thirds.
Honey Glazed Pork Chops With Spanish Rice 
This sweet and savory entree has a stunning flavor profile, thanks to the pears, rosemary, and honey. The hints of fruit cooked into these Honey Glazed Pork Chops With Spanish Rice are just right for a summer get-together with family or friends.
Here's what you'll need: 
2 ea pork chops
1 ea pears
1 sprig rosemary
1 ea yellow onion
1 oz honey
2 cloves garlic
1 teaspoon coriander powder
1 teaspoon salt
1 teaspoon Italian seasoning
black pepper to taste
1 tablespoon extra virgin olive oil
1 cup cooked Spanish rice
Instructions
Season pork chops with salt, Italian seasoning, black pepper, coriander powder, and olive oil, and let marinate for 30 minutes.
Next, heat a HexClad Pan to medium-high heat. Add the pork chop fat side down to allow the pork to render. Next, add the garlic and rosemary with a pinch of salt.
Sear evenly on both sides. After all sides have reached a golden brown sear, add pears, onion, honey, and stir. Next, add a rosemary sprig to the pan. Remove the pan from the stovetop, and finish cooking in the oven at 350 F for fifteen minutes.
When ready, take the pan out of the oven and allow the pork to rest for three to five minutes. Then, slice pork chops on a cutting board and remove the bone.
To serve, place Spanish rice on each plate and top with sliced pork chop, pear and onion mixture, and more sauce. 
And if you want a little something extra, this entree would pair well with a side dish of crispy roasted potatoes or mashed potatoes if you feel the need for comfort food.
One Pan Lemon Butter Chicken
We love a one-pan dish, especially for company. When you are already cooking for so many, you want the post-party cleanup to be as easy as can be. With HexClad's One Pan Lemon Butter Chicken, you'll have a delightful meal to share with friends, all while the cleanup is kept to a minimum.
The ingredients for this dish are:
2 tablespoons extra virgin olive oil
4 small chicken thighs
kosher salt and pepper
1 lemon, sliced
2 tablespoons butter
1 clove garlic, minced or grated
1 cup orzo pasta
1/3 cup white wine
2 1/2 cups low sodium chicken broth
1/2 a bunch kale, roughly torn
6 to 8 sprigs of thyme
Instructions
To get started, preheat the oven to 400 degrees F. Then, heat the olive oil in your 12'' HexClad pan over medium to medium-high heat. 
Season the chicken with salt and pepper on all sides, and place in the pan once the oil is shimmering. Sear the chicken on both sides until golden, which should take about three to five minutes per side. Once a nice golden brown on both sides, remove the chicken from the pan, and set it aside.
In the same pan, add the butter and lemon slices. Sear the lemon for about one minute per side, or until golden. Remove the lemon from the pan and place on the plate with the chicken. 
Continuing to use the same pan, add the garlic and orzo. Cook until the garlic is fragrant and the orzo toasted, which should take about two to three minutes. 
Once the garlic and orzo are cooked to the desired point, add the wine to the skillet to deglaze the pan. Then, add the chicken broth, kale, and lemon juice. Bring to a boil over high heat and stir. 
Slide the chicken, lemon slices, and any juices left on the plate back into the pan. Transfer to the oven and roast for fifteen minutes or until the chicken is cooked through.
Once the chicken is cooked through, all you need to do is garnish with a topping of fresh thyme and lemon zest. Your guests will rave about the zesty meal, and you won't have the prospect of a long-haul cleaning job hanging over your head and souring your mood. Enjoy!
Bottom Line
Whether hosting an intimate weeknight gathering with close friends or a large event celebrating a special occasion, these dinner party recipes are sure to impress. 
Once you've decided on your main course, the hard part is over! You just have a few more decisions to make before the big day. Will you serve appetizers? Can you spare the time for a marinade or do you want a hands-off meal in the form of roast chicken? 
Whatever you decide on, HexClad is here to help. Our cookware relies on patented hybrid technology to combine the benefits of stainless steel and cast iron all in one. This technology gives our pots, pans, and woks the ability to provide the perfect sear, without the risk of food sticking to the pan.
Our cookware is oven safe, so you don't need to worry about transferring ingredients from one pan to another when searing and roasting. With all that dishwasher-safe cookware, HexClad helps ensure the cleanup is as low-key and stress-free as can be, even after cooking for a crowd. 
Hosting a dinner party should give you plenty of time to connect with your guests, not keep you stuck in the kitchen. HexClad cookware can help simplify the cooking and cleaning tasks, giving you time and energy to socialize. So, grab your drink, relax with your friends, and bask in the compliments to the chef that will be coming your way.
Sources:
Garlic: Proven health benefits and uses | Medical News Today
Health Benefits of Lemon | WebMD
Cilantro (coriander): Benefits, nutrition, and preparation tips | Medical News Today