25 Unique Gifts for Chefs of All Levels
by HexClad Cookware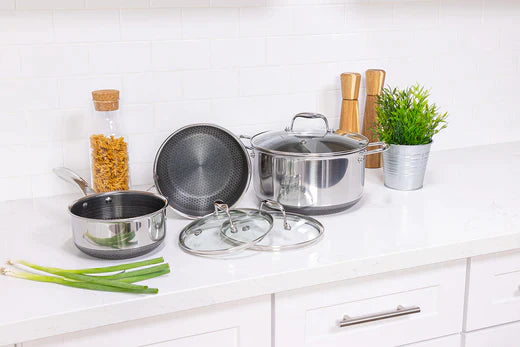 Holidays and birthdays are on their way, and you've got some gifts to buy. However, some people are just a little harder to buy for, whether or not gift-giving is your forte. 
And by some people, we mean those spatula-wielding, fish-fileting chefs in your life. They have a cool job or maybe just a cool hobby, but either way, you have to turn it up when picking gifts for them. 
So we rounded up a list of the top gifts to give the chef in your life. And we're sure they'll earn you some bacon points.
Professional Chefs vs. Home Cooks
There is a big difference between being a professional chef and a home chef. One gets paid, and the other probably gets a lot of compliments from their family over their DIY soup and BBQ recipes. 
Some of these gifts may be better suited for one type of chef over another, but overall, these are very solid gifts that will be loved by anyone serious about the kitchen. A lot of home chefs love specialty items, and many professional chefs won't already have these at home for personal use. 
Find Out Their Favorite Recipes To Help Pick Cooking Gifts
We know that both categories of chefs may have some of these items already, and maybe for more novice chefs, some of these gifts are probably a little extra. 
So what's the best way to weed out what they'd use? Find out what their go-to recipes are or what style of cuisine they enjoy making at home the most. For example, they may love sushi, but we suspect they aren't busting out the raw fish at home every Tuesday. 
Finding out their favorite recipes will help you decide what they need and what level of culinary expertise you're dealing with.
Ask Questions To Find the Best Gifts for Chefs
When in doubt, ask a lot of questions. Get their take on new items that hit the market, ask for recommendations on products, and ask them if they have these products. It's okay — be blunt!
Ask anything that will tell you more about what they would love to own or what they would love to upgrade. Chances are that even if they know a product is superior to another, it doesn't mean they own the better option. 
25 Gift Ideas for Professional and Novice Chefs
These are some of the most interesting and stand out kitchen tools and kitchen gadgets that will make the chef in your life feel extra special. 
Whether you're dealing with a pro or someone who just really loves to try new recipes, these are perfect gifts that will stand out against the typical gift cards or sweaters their grandmas will buy. 
These are special enough to wow the crowd but basic enough to actually be usable and helpful. 
We'll even let you take credit for finding them.
New Cookware
There's nothing quite like a new set of pans. Your favorite chef will have the incredible feeling of unboxing these pans and realizing how superior they are to the crap from Walmart that they've been using for years.
While everyone should have a set of pots and pans that are durable and easy to use and clean, not everyone does. They get a reputation for being a specialty item that usually gets pushed to the bottom of the list. 
If you have a chef friend or loved one that's been using the same fry pan for ages, it's time to upgrade their arsenal. 
Try one of our pots and pans sets or an individual sauté pan or pot. Our high-quality products are made with a stainless steel exterior and aluminum core, making them durable, easy to clean, and dishwasher-safe. They'll also provide you with an even heating surface for the best possible culinary experience. 
Even if your special chef thinks these are too much to buy, you know that they'll love them, and it'll be actual ages before they have to replace them again — proving time and time again just how amazing you are.
Kitchen Knives
A new knife set is the ideal gift for a professional chef or at-home novice. It's one of the first gift sets that a pro knows they'll need but might cheap out on for financial reasons. On the other hand, some novices won't know where to begin. 
Thankfully, we have the best in Japanese Damascus steel knives. They come in an Essentials Set of 6PCS as well as an individual Chef's Knife making them a great gift for chefs of all levels.
These knives are the real deal. Sharp, gorgeous, and worthy of major bragging rights with every veggie slice.
Cutting Board
A thick wooden cutting board is as much a countertop showpiece as it is a kitchen essential, and getting your favorite chef a customized cutting board will be the cherry on top. 
They'll be able to display it proudly and use it everyday. Plus, a wooden cutting board is the best option for keeping their knives sharp and straight.
Rolling Pin
Most of us remember the rolling pins from our grandmothers' kitchen. This is not what we are suggesting you buy the chef in your life. 
There are plenty of rolling pin options on the market that are strong and aesthetically pleasing enough that they can be displayed. If your chef likes to bake, this is definitely something they would love.
Meat and Veggie Slicer
This is a seriously special item that may be more appropriate if your chef is borderline or fully a professional. 
Slicers aren't easy to use, but they are really handy. They're also really badass. A slicer is a fancy kitchen tool that chefs who own them love to show off.
Fryer
There are a lot of fryer options out there considering how popular they are now. The hardest part is deciding if you want a deep-fryer or an air-fryer. 
Frying recipes are trending right now, and with so many options, we imagine most chefs who don't have fryers are chomping at the bit to get one. Your gift's timing couldn't be more amazing.
Sous Vide
In French, sous vide translates to under vacuum, which is what this cooking technique does. You cook foods in a vacuum-sealed bag in a water bath at a very specific temp. 
Sous vides have been around for a while but the recent upgrades made to them have made them so much more fun to use. Newer models have Bluetooth capability and can be controlled through an app on your phone.
Vacuum Sealing System
A chef who owns a sous vide (or wants one) will also need a way to vacuum seal food before cooking. 
This is also a great way to store food for the freezer or for traveling, so investing in a vaccuum sealer for any chef is a nice touch.
Dutch Oven
Dutch ovens are a piece of specialty cookware, and most chefs love having at least one in their possession. Even if it doesn't get used often due to the small number of recipes that utilize them, dutch ovens make awesome kitchen show pieces.
Stand Mixer
No gift guide would be complete without a stand mixer.
They can complete a lot of functions, and there are an astounding number of attachments available. You can get literally everything from dough hooks to ice cream maker attachments for your stand mixer. There's no limit to the number of creations your chef can make with one of these.
Specialty Spices
Certain spices are extremely expensive to buy, but they're so worth using. Spices like saffron, vanilla beans (not extract or paste), and real truffles come with a big price tag. 
Most, if not all, chefs would love to use these products but many times won't or can't buy them for personal use. Making a gift basket of expensive spices, specialty salts, and rubs is unique and useful.
Portable Pizza Oven
Who doesn't love cooking outdoors? Add to your chef's outdoor kitchen and get them a pizza oven.
Pizza ovens are impressive, affordable, and a novel idea for delicious outdoor meals. They're usually made for tabletops so you won't have to worry about stands and other cumbersome details.
Steak Knives
A chef who loves to sear steak can always use an upgrade in steak cutlery. 
Steak knives can become a bit of an afterthought in the kitchen, and we usually spend so much time on other details. These just end up being an item our mother-in-law brought over and we use what we're given. 
Not anymore. 
If your favorite chef is a meat-lover, our set of Japanese Steel Steak Knives are the ultimate thoughtful gift. These steak knives are badass, they'll cut through filets like butter and slice through a fatty ribeye like it's a piece of bread. 
They're also so durable that they'll be featured on the dinner table for years to come, making them the perfect birthday or holiday gift.
Mortar & Pestle
One of the most incredible things for a chef to do in the kitchen as they level up their culinary expertise is to create their own spice mixtures. A stone or cast iron mortar and pestle allows them to grind up spices and herbs to create rubs and pastes for meats and veggies. 
This is another one of those gifts that adds to any kitchen aesthetic.
Large Pepper Grinder
An oversized pepper grinder is ostentatious and over the top. Naturally, every chef would love one. 
They work great so consider buying a tri-colored bag of whole peppercorns on the side so your chef can add a mix of colors to their dishes
Measuring Cups and Other Kitchen Staples
It seems basic but there are so many options for measuring cups, spatulas, ladles, and other cooking utensils. A personalized gift could be a gift basket of some high-quality kitchen favorites.
If you're not sure where to start on this, start with the basket. We recommend an option that doubles as a picnic basket for both function and form. 
Many companies carry cooking utensils that come in various colors and themes. If you have a chef who is a big fan of superheroes or Harry Potter, you'll be able to put together a complete set with this detail in mind.
Mixing Bowls
Every chef worth their salt needs to own a superior set of mixing bowls. However, not every great chef does. Chefs need mixing bowls that can stand up to whisking, serving, and everything in between. 
We highly recommend our Mixing Bowl and Lid Set. These bowls are made of stainless steel so they're durable and will last forever. They also come with vacuum-seal lids, so you can store sauces and leftovers safely.
Paella Pan
This is one of those gifts that's really over the top — but a professional chef would love it.
Paella is a specialty dish and having a pan and burner with the stand that can create just this dish is spectacular. Not every kitchen or home can accommodate this, but you can still consider a large pan that could hold the ingredients properly. 
We suggest our 14" Hybrid Wok. It's wide and deep enough to make paella a breeze. Plus, with our peaks and valley stainless steel design it's durable and non-stick. Your favorite chef will be able to make paella again and again without any difficulties.
Juicer
For those health fanatics, a proper juicer is the best gift. It'll save your favorite chef money, and may even encourage them to make you juice whenever you're over.
Knife Roll
This gift is for the serious foodies and professionals. A knife roll is a way to store knives in the coolest way. If the chef you have in mind watches any cooking show, they'll have seen chefs like Gordon Ramsay dramatically open their knife rolls and take out each knife meticulously.
A professional chef knows the value of a knife roll for carrying and travel purposes. Any home chef knows the wow factor involved with a leather bag that carries all those professional knives they own (or that you just bought them).
Cookbooks
Every chef, no matter their experience level, is always looking for new cuisines and recipes to try. A set of cookbooks from a variety of regions and cultures will satisfy their needs. 
You may even know a home chef that loves to travel but can't do so at the moment. This could be a good way to add a little variety to their routine and help them experience new flavors without having to fly all over the world. 
We highly suggest adding Gordon's Ramsay in 10 cookbook to the list. It features 100 new recipes they can try. This book also provides tips and tricks for new techniques. It's a fun read with a lot of information.
Specialty Olive Oil & Vinegar
If you're not a big foodie like the chef you're buying for, you may think olive oils are all the same. However, most of the olive oil sold in stores is authentic, but basic. 
When you're buying for the chef in your life, especially someone who seems to have every gadget known to the culinary world, fancy olive oils and vinegars are perfect. 
The bottles are usually stunning and can be used again for other cooking purposes. These are more items your chef may want but rarely buys.
Personalized Apron
Professional chefs usually have professional aprons, but they might not have any new aprons. And novice chefs probably don't have any real aprons, so getting them one will make them feel that much more like the chefs they watch on TV.
A customized apron is easy to find online and easy to get in hand, making this a fun, personal gift.
Food Smoker
A food smoker is unique gift for any family member who loves cooking. Smoking various foods before serving has become really popular in restaurants around the world, so chances are your chef would be stoked to try the technique at home.
Food Dehydrator
Beef jerky and apple chips are some of the most popular snacks on the planet, why not give your chef a way to create these delicious foods at home?
A food dehydrator sits on the counter so it's not overwhelming in size and generally are small enough to store in the cabinets between uses as well. 
The best part is the number of options for dehydrated foods and recipes, not to mention the added health benefits of dehydrated foods. Your chef will use it so much you'll never run out of beef jerky. 
Prepare To Be the Favorite With These Gifts
We are sure that these gifts will stand out in the crowd and get you noticed for your amazing gift-giving skills. 
If you love your chef enough to buy them a gift, you might as well get them something that is actually meaningful. Our products or other recs from this list are the way to gift a chef something they'll appreciate and use. 
Who knows? One of these gifts might even get you the coveted leftovers at the next dinner party. 
Sources:
What is Damascus Steel? | ScienceDirect
Sous Vide: A Cooking Review | ScienceDirect
Functional Dehydrated Foods for Health Preservation | Hindawi